Scotland's oldest wine merchant Cockburns of Leith – which was founded in 1796 and counted Sir Walter Scott, Charles Dickens and King George IV among its customers – has collaborated with Annandale Distillery in Dumfries and Galloway to launch Founder's Reserve, an artisan Blended Scotch Whisky capturing the very essence of Scotland's whisky heritage.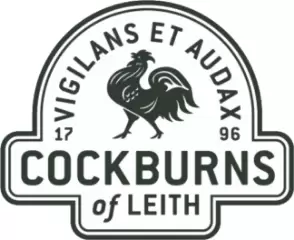 Blended to a unique recipe created by Annandale's Master Blender, Cockburn's of Leith 'Founder's Reserve' features an unusually high proportion of Annandale's award-winning Single Malts, variously matured in ex Châteauneuf-du-Pape red wine barrels, first- and second-fill ex bourbon casks, and traditional oloroso sherry butts.
Non-chill filtered, lightly peated and bottled at 46% ABV, Cockburn's of Leith 'Founder's Reserve' has a nose that's reminiscent of an old-fashioned sweety shop, with hints of caramel, dolly mixtures and pink wafer biscuits. The palate is subtle yet bold with toffee, hazelnut and chocolate notes, and a complex finish of pipe tobacco, that emerges slowly to displace prior hints of embers and dried fruit. This complex and beautifully balanced Scotch Whisky is testimony to the art of the Master Blender.
Established in 1836, Annandale is one of Scotland's oldest operating distilleries. Founded by former excise officer George Donald, Annandale was mothballed in 1921 by then owners John Walker & Sons (Johnnie Walker). Fast forward to 2007 and Annandale Distillery Company was formed by husband-and-wife team Professor David Thomson and Teresa Church who invested over £12.5m in their painstaking refurbishment the distillery. Whisky production resumed in 2014, almost a century after the distillery was closed, seemingly forever.
Working with 'whisky genius' and friend, the late Dr Jim Swan, Annandale Distillery pioneered the then unusual idea of using twin spirit stills to enhance copper contact during the final distillation. This delivers a smooth, elegant spirit that won the accolade of 'Best Single Cask Single Malt 10 years & Under' in both 2020 and 2021*.
Rooted in history, Founder's Reserve encapsulates the true spirit of Cockburns of Leith, which was founded in 1796 in Edinburgh by Scottish merchant Robert Cockburn, brother of the famous literary figure Lord Cochrane. From his warehouse in Leith – Scotland's gateway to the world for cargo and transportation – Robert, the ever-intrepid spirit, traded whisky globally and the name quickly became synonymous with quality.
Designed to maximise on-shelf presence, the bottle design of Cockburn's of Leith 'Founder's Reserve' Blended Scotch Whisky is classic, stylish and showcases the Founder's Reserve story.
Commenting on the launch, Keith Murray, director of Cockburns of Leith, said:
"We are delighted to introduce our new Cockburn's of Leith Founder's Reserve Blended Scotch Whisky as a first expression launch in partnership with the Annandale Distillery. When you taste a dram, you truly experience the malt craftsmanship behind the blend with the influence of the Châteauneuf-du-Pape wine barrels and oloroso sherry butts delivering a depth and complexity that we believe is exceptional."
David Ashton-Hyde, Commercial Director & General Manager of Annandale Distillery added:
"Since opening our new on-site bottling and blending hall we've had the privilege of working with some inspiring people and exciting companies. Working with Cockburns of Leith to bring their Founder's Reserve Blended Scotch Whisky to life, has been a joyous experience. The rich histories of both Annandale Distillery and Cockburns of Leith, coupled with the passion of our teams, has yielded a stunning blend and fabulous brand. We're very excited to see this new whisky on-shelf at Cockburns of Leith.
With a RRP of £34.99, Founder's Reserve is available to consumers to buy through www.cockburnsofleith.co.uk and via a network of specialists and independents. For trade enquiries, please contact Chris Pateman – c.pateman@annandaledistillery.com